3 Traits of a Sensible Holiday Gift Buyer
Sensible holiday gift buyers have three traits. They pace themselves and start early. They pick gifts that have meaning and add value to someone's life. They understand the difference between great quality and the opposite.
With that gift buyer in mind, here's our top 10 leather gifts for men for the 2023 holiday gift-giving season.
1. A men's gift for the fastidious documentarian
Journal Cover in Bison Leather
It's simple, functional and classy for your guy who writes everything down.
The journal cover is one of Duvall Leatherwork's newest projects. It comes with a spiral-bound notebook shown here.
$150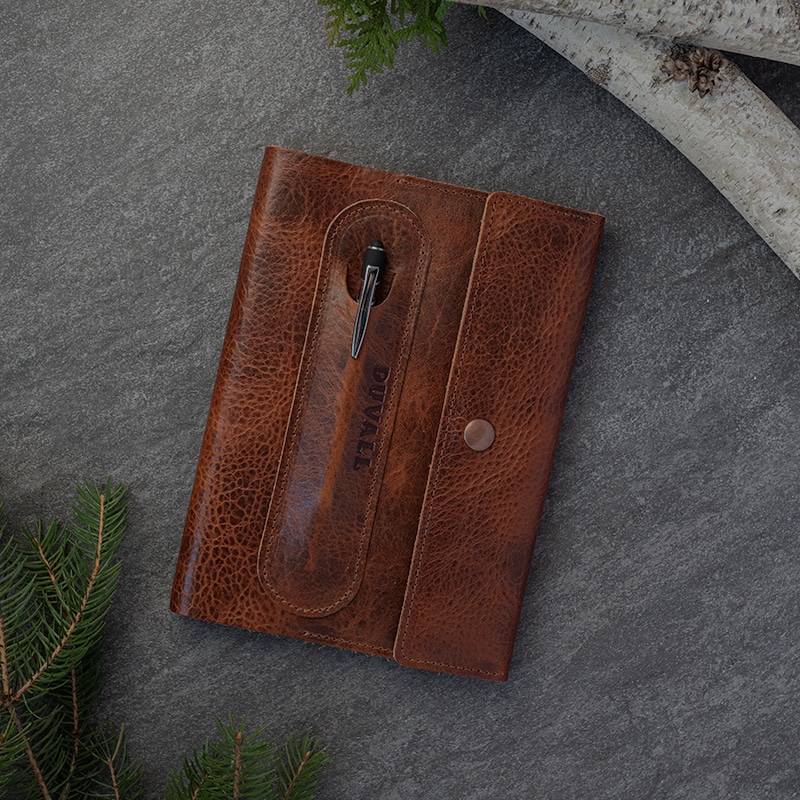 ---
2. A men's gift for the reluctant wallet user
The Money Clip Wallet
Is your guy using a rubber band or a binder clip to hold his credit cards and a few bills? He's a minimalist, or at least he wishes he was. You know it really looks like though — it looks like his life's falling apart. Make his holiday and play to his lean-living aspirations with the Money Clip Wallet from Duvall Leatherwork.
$110
---
3. A trusty belt that never quits
The Upland Belt in Brown Leather
We love great, full-grain leather, but we've gotta come clean — the buckle on the Upland Belt takes the cake. It's  distinct and sturdy with a roller and integrated loop. It's a showcase piece for sure, and one of our most popular belts.
$115
---
4. A leather gift for formal and leisure moments
The Freelance Belt in Black Full Grain Leather
The Freelance Belt says, "Sure, I'll get dressed up for your cocktail party, but I'm also ready for action."
It's formal enough for a shirt and tie combo, and otherwise utterly versatile. He'll wear it every day for years. Trust us.
Also available in brown and gray leather.
$110
---
5. A gift for the guy who never has enough hats
A Duvall Leatherwork Knit Beanie

We're getting into stocking-stuffer territory, but what's a pile of holiday gifts without some apparel?
Duvall Leatherwork Patch Hats come in several styles and emblazoned with the logo from your guy's favorite independent leather shop.
$35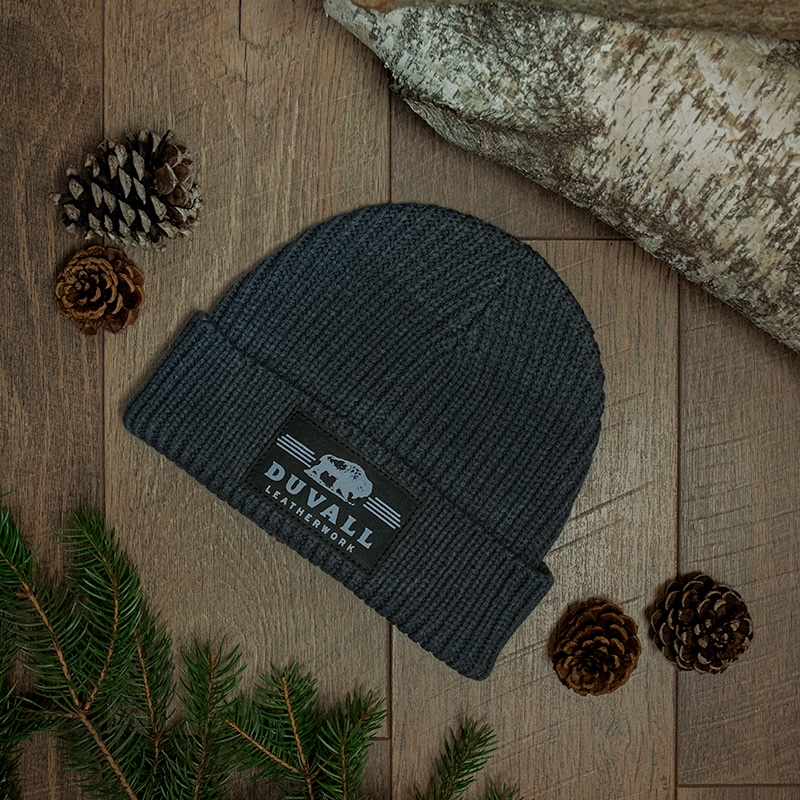 ---
6. His new favorite travel accessory
Men's Toiletry Bag in Red Brown Leather
For the serious traveler, give an utterly practical, utterly beautiful gift. Most of Duvall's pieces are built for performance. You want to grab it again and again and have the same experience. That's especially true with the Men's Toiletry Bag. These things can take a beating and, unlike everything else in nature, will only look better with age.
$215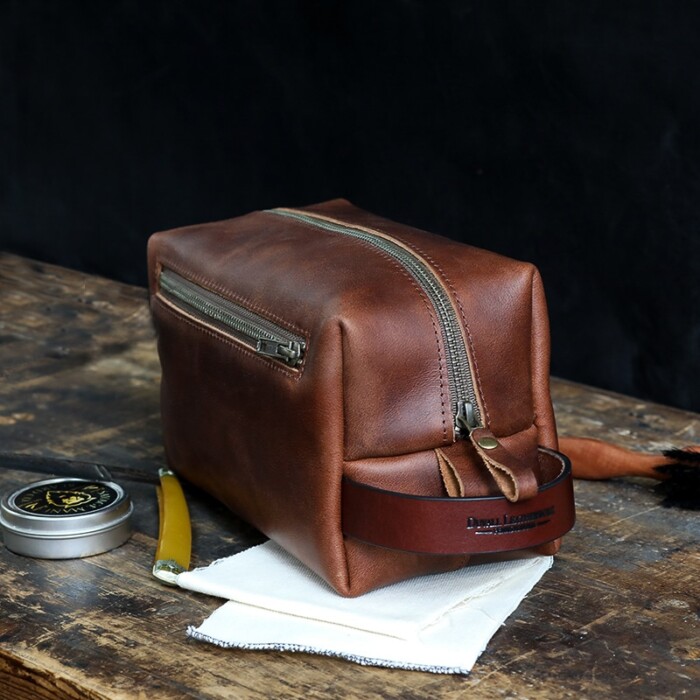 ---
7. A gift for a guy who's known for his pocket-patting
Leather Valet Tray

If the guy on your list is always patting himself down, for his wallet, phone and keys – and we're pretty sure that's just every guy – he'll definitely appreciate a leather valet tray. He can stash it in the foyer to catch his keys, wallet and phone on the way in, or put it on his dresser to help keep things organized.
$145
---
8. His new best drinking buddy
Leather Can Koozie
A leather can koozie is fun and functional, just like most of Duvall Leatherwork's goods. If you're in the north where we are, holding a cold beer can barehanded in a stadium parking lot stops being fun right about now. Put a koozie on it!
If you're gift giving on a budget, or if you have a lot of guys to buy for, grab a bunch of them. They're only $15!
$40
---
9. A leather dangle for jangling keys
Large Leather Key Fob
The large leather key fob features a handy loop for adding or subtracting key rings as needed. It has a chunky clip and heavy duty snap. You'll need at least a 1-½-inch key ring. If your guy uses a smaller key ring, check out the small leather key fob.
$15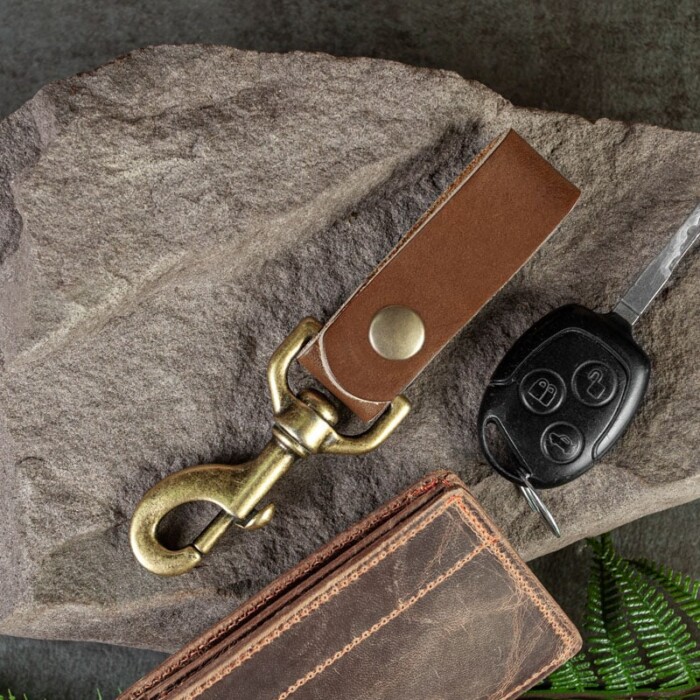 ---
10. The ultimate gift — options
Duvall Leatherwork Gift Certificate
When all else fails, a gift certificate shows you care and that you tried.
When you purchase a gift certificate, we send you a code that's accepted online and in-store and even for orders placed over the phone (yeah, we're old school like that).
But for heaven's sake, at least print it out and put it in a nice card or something.
$25, $50, $70 and $100