Handcrafting Quality Leather Wallets
Making quality leather wallets starting with a single piece of sturdy goatskin. We found that goatskin has a lot of qualities that make it the perfect leather for wallets.
It's firm and ages beautifully, holding its shape, but becoming more flexible with time.
We use dies to cut out the outer cover and credit card pockets. Then we dry fit them together with a little double sided tape.
The process
Bit by bit, each leather wallet takes shape under artisan hands. Nothing's automated. Skill and experience bring the pieces together that make a quality leather wallet.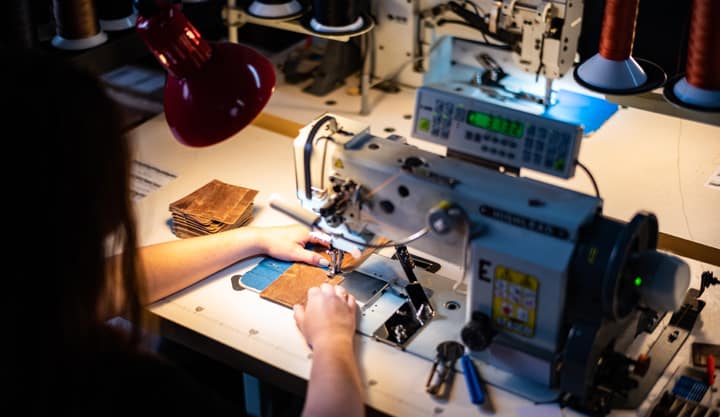 Our watchful eyes study every stitch to bring the same quality you expect in U.S.-made goods. We do it for each new wallet as the one before it.
When the sewing's done, a live flame locks the ends of the bonded nylon thread securely in place.
In addition to a trusty Bic lighter, we crafters at Duvall Leatherwork rely on many specific leatherworking tools.  Click here to explore the tools used by leatherworkers.
A folding hammer applies gentle creases at the hinge. A head-knife, a half-round blade for shaving leather, rounds the edges. Small, razor sharp shears snip thread.
On the wall a belt sander smooths any rough spots on the wallet's edges, then burnished with beeswax to seal the edges.
Back at the workstation, a pad of waxed canvas puts a finishing touch on seams and stitches.
At Duvall Leatherwork, we have a passion for making leather wallets
It's almost silly how passionate we are about our men's leather wallets.
You've got to see one, touch it – go ahead, smell it – to know what we're talking about.
We labored over designing the dies and selecting the right tools and materials, stitching techniques and patterns. Add all of that together, mix in some time and attention, and we bring you a reliable leather wallet that just won't quit.
You carry a wallet every day. It should look and feel great. It should last forever.  Click here to explore all of our Men's Leather Wallets.